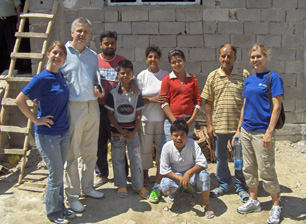 Volunteers hope to return with more help
Sara Bernal and Susan Mortensen from Tempe, Arizona this summer visited Macedonia within Sister City Project between Tempe and Skopje. They used their time in Macedonia to help local Habitat for Humanity organization, and did a great job helping in office and fieldwork.
"We went to observe the progress that families were making with the loans from HFH Macedonia. It was a very humbling experience to see what those families were able to do, and how much more comfortable they would be able to live when the work was completed. I didn't need to know Macedonian to understand that the family deeply appreciated the assistance from Habitat", says Sara after visiting two partner families in Kocani.
Sara and Susan helped HFH Macedonia to write family stories and gave English lessons for employees. Also they did filed work by copying and spreading leaflets promoting Home Improvement Fund.
Sara and Susan were first international volunteers this year, which came to help HFH Macedonia. "Habitat for Humanity Macedonia is making such a difference in the lives of countless people, and I hope to return to Macedonia in the near future with a GV team to help more", says Sara Bernal.