Finnerty Family Foundation joins Habitat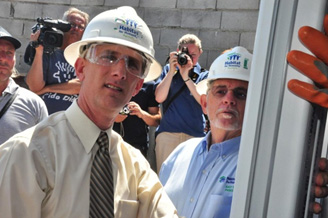 The extremely poor living conditions that John Finnerty witnessed during one of his earlier visits to Macedonia, particularly among families with special needs members, made him decide to take one-of-a-kind action. This summer he went to the village of Rasche, situated on the outskirts of the capital Skopje, and met a family he already knew: Seidi Ismani, his wife with intellectual impairment and his four grownup children, three of which are with special needs and unable to work. The family lived in a house with no septic tank and the entire sewer flowing in the yard, while the walls and windows were in such a poor condition that not only one could see from inside to outside through the walls, but they also had only minimal protection against both extremely cold or warm weather. Seidi himself has no permanent job, working only on a seasonal basis, thus not being able to afford Habitat renovation loan.
The action John Finnerty made was pretty simple but exceptionally generous. He namely offered his Florida based Finnerty Family Foundation to help this Rasche family and several other that have special needs members, by repaying their Habitat loan in full, and also by volunteering during the reconstruction. Being Honorary Board member of HFH Macedonia since 2008, John invited other supporters to join and many of them accepted his invitation, including Paul Wohlers, the US Ambassador to Macedonia, Bekim Murati, Mayor of the Municipality of Saraj and Shaban Memeti, Director of the Public Health Institute of Macedonia.
Step by step, the event aimed to promote this trilateral partnership turned into a widely supported effort to prevent jeopardizing both individual and public health, supporting at the same time the concept of energy efficient performance of rural homes. Yet, for Ismani family it was a milestone event, as they got a new septic tank, new PVC windows replacing the old wooden ones, and new facade installed, sufficient to provide significantly better thermal insulation.
This and the other planned interventions for Rasche belong to two separate HFH Macedonia's programmatic sectors: Water Supply and Sanitation, and Energy Efficiency. Beside the home improvements that are beneficial for the local inhabitants, they also have a significant public health component, as they prevent further pollution of the underground water reservoirs that supply the running water for the city of Skopje.