Residential Energy Efficiency Investor Forum held in Skopje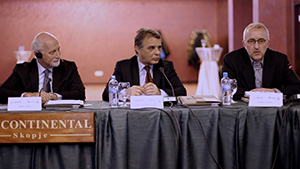 On 25th of March 2015, USAID and Habitat for Humanity Macedonia Energy Efficiency for the Housing Sector Project hosted The Residential Energy Efficiency (EE) Investor Forum in Skopje. More than 50 participants from the public and private sector discussed the needs and opportunities for investment in energy efficiency in Macedonia's residential sector.
"We hope to facilitate investment, entrepreneurship, and job creation in energy efficiency and motivate all stakeholders to get involved in advancing residential energy efficiency," said James Stein, Mission Director of USAID Macedonia.
"Our activities include working with all relevant stakeholders in order to influence National EE Strategy and the corresponding Actions plan, so that they can provide incentives for homeowners to take measures and improve the efficiency of their homes. Investing in residential energy efficiency is important not only because it reduces the pollution and saves money and resources but also because with the process of improving energy efficiency, we can create jobs and offer real opportunities for business development," said the National Director of Habitat for Humanity Macedonia Zoran Kostov.
USAID and Habitat for Humanity Macedonia Energy Efficiency for the Low-Income Housing Sector Project is a three-year initiative designed to improve buildings in Macedonia inhabited by low-income families. This project helps families living in collective apartment buildings to decrease the household energy consumption, thus reducing the costs for energy bills. To date, the project has successfully applied energy efficient upgrades to 32 collective apartment buildings in 7 municipalities, directly supporting more than 600 households. It also contributed to increased capacities and helped to raise awareness for energy efficiency in the residential sector in a variety of ways.
Gallery