Volunteering
Macedonian President volunteered with Habitat at the new builds site Veles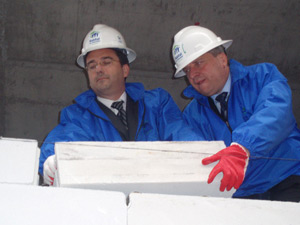 President of the Republic of Macedonia, Gjorge Ivanov, visited and volunteered at HFH Macedonia's new builds site in the town of Veles on September 11th, 2009, expressing his support to the organization's cause of poverty housing eradication. The visit coincided with the National Day of Service and Remembrance in the US and President Barack Obama's volunteering with Habitat for Humanity in Washington DC.
On the site in Veles Macedonian President Ivanov, accompanied by the Mayor Goran Petrov, was welcomed by the Board of HFH Macedonia and the first group of low-income families selected as HFH Macedonia partners. They joined forces later and laid bricks symbolically at the 24 Habitat homes that are currently under construction.
HFH Macedonia's new builds program in Veles includes construction of a settlement with 90 homes in 11 separate buildings totaling 4700 sq.m. The construction started in October 2008 with a groundbreaking event that was attended by HFH International Board of Directors. The first fоundatiоn stone was laid by HFH CEO Jonathan Reckford.
Gallery
Related links