First Japanese GV team worked at the Veles build site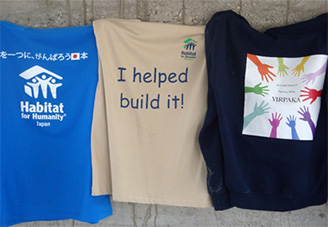 From March 1 till March 14, 2014 a group of Japanese students visited Macedonia and were involved in Habitat for Humanity's Global Village volunteer program. The group helped by working alongside with partner families who were selected for the Habitat's New Builds Program which helps with housing for families in need. Sharing their workload were the Honorary Board member of HFH Macedonia Mary Jo Wohlers and the Honorary Consul-General of Japan in Skopje Kazu Lesnikovska. The partner families and all the volunteers manage to build all the walls for three units and many of the wooden trusses needed for the roof of the building.
"An experience I will never forget", says Takatoshi, a freshmen in College. "Being able to help the families in their life long dream to have a home where their children will grow in happiness is priceless."
Besides helping the people in Veles the Japanese GV team got to enjoy the great culture and nature of Macedonia. They visited many places and cities. From the beautiful caves in Matka to the great Lake of Ohrid, they were fascinated with the history of all the churches, mosques and archeological sites.
"People are one of the friendliest I have ever encountered" says the group leader Satoshi. "I have done many GV trips and I am fascinated with the Macedonian people. I feel much welcomed everywhere we go. It is as I am their longtime friend."
The experience and the great story of being on a GV trip to Macedonia will be enthusiastically shared with many friends, families and people of Japan, say all the team members of the Yirpaka Japanese GV team whose help was welcomed and honored by the people and Habitat partner families in Veles.
Gallery