HFH Macedonia Implements USAID's Pilot Project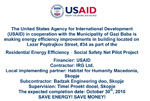 Habitat for Humanity Macedonia, acting as a local partner of the US Agency for International Development, is taking part in a pilot-project aimed towards an assessment of the savings in residential buildings energy consumption after energy efficiency measures have been implemented. The project is expected to demonstrate that the savings of a household's energy costs may easily justify the investments made in energy efficiency measures such as: replacement of windows and outside doors, improvement of the thermo-insulation of the external walls through reconstruction of the facade and the roof, as well as replacement of inefficient lighting with a more efficient one.
For this purpose, three apartment buildings were selected by HFH Macedonia and its partners (Washington DC based IRG and Macedonian Timel Project), with energy efficiency audit being undertaken before the intervention. The selected buildings, accommodating low-income households, use different heating sources (district heating, electricity and combined electricity and firewood). Two of the buildings are located in Skopje and one in Kumanovo.
After the results of the audit suggested the type and scope of interventions, the reconstruction works were undertaken from July to October 2010. As of the end of October, the reconstruction works were completed and the buildings are scheduled for the after-intervention audit.
An additional component of the pilot project supports the youth workforce development in Macedonia, illustrating that way some further benefits of energy efficiency improvements in the apartment buildings. Twelve high school graduating seniors had the opportunity to both train and participate in the installation of energy efficiency equipment in the three apartment buildings.
The pilot project has also initiated a Stakeholder Advisory Group (SAG), as a coordination and information exchange forum of different stakeholders in the government, industry and civil society intended to serve as a mechanism that brings together those interested in residential energy efficiency, energy price reforms and improved social safety nets.
Reconstructed building in Avtokomanda, Skopje
Reconstructed building in Cair, Skopje
Reconstructed building in Kumanovo