Recognition
Municipality of Veles' highest recognition for Habitat Macedonia
Habitat Macedonia has been awarded the highest recognition, the Plaque 9th of November, for contributing to Municipality of Veles' national and international affirmation, especially in the field of promoting human values and volunteerism. The award was presented by Ace Kocevski, the Mayor of Veles, at the ceremonial event held on November 9th, 2018.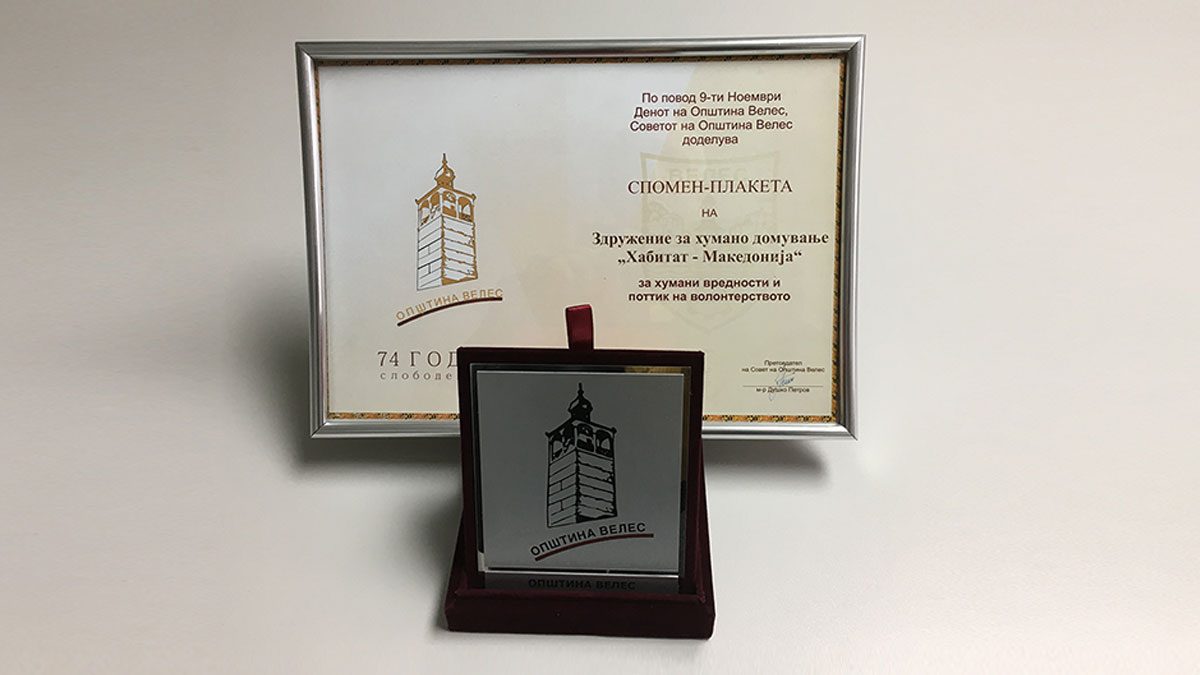 The proposal for the award was submitted by a number of partner families from the New builds program, and supported by several local business partners that have joined Habitat Macedonia in building new homes for the low income families in Veles. The proposal emphasized the immense role of Habitat Macedonia in improving the housing conditions, supporting local economy, affirmation of the city of Veles on national and international level, as well as in promoting values like partnership, solidarity and commitment.
As a result, and as stated in the proposal's elaboration, 5 apartment buildings with 36 apartments have been built during the past 10 years, while the sixth building is under construction with 12 new apartments. The value of the entire investment exceeds USD 1.5 million. It has been also emphasized in the elaboration that the construction involved 1544 international volunteers, from more than 30 countries, organized in 109 GV teams. In total they have spent 10000 days in Veles and dedicated more than 60000 volunteering hours.