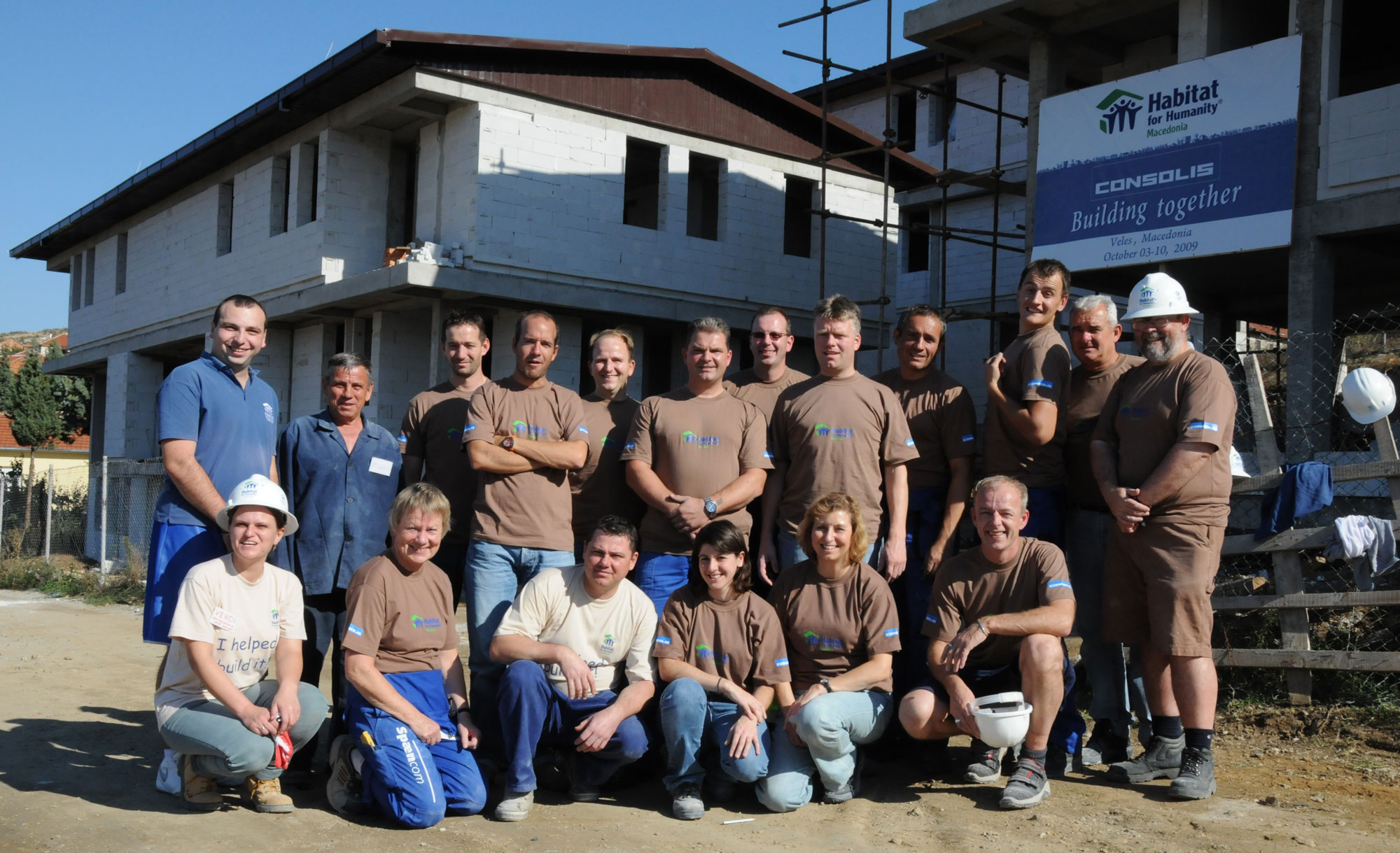 Volunteer
International volunteers and particularly Global Village teams from all over the world are hosted by Habitat Macedonia's New Builds program and its project in Veles, 50 km south of the capital Skopje.
New Builds Veles program began in 2008, after the Government of the Republic of Macedonia provided a land plot under favourable conditions, while the Municipality of Veles approved the detailed urban plan relevant to Habitat Macedonia program goals. According to the plan, 11 apartment buildings with 102 apartments were planned to be built on a land plot of 6470 m2. It was planned the entire settlement to be built with the assistance of volunteer teams from all over the world, working alongside future homeowners As with many other traditional Habitat programs, the target group in this project are low-income families, young couples with children and young couples living in substandard conditions.
The first phase was completed in 2012, with the construction of four buildings, each consisting of 6 apartments. The tree story buildings include apartments with floor area of 49 m2 to 79 m2. The second phase of the same project started in 2013 with a construction of a fifth building located in the very neighborhood of the existing buildings. The new building was bigger, however similar to the buildings from the previous phase. It has 12 apartments with average floor area of 60 m2. The construction of this building was completed in June 2017. The third phase of the same project actually began right after the previous one was completed. Again, this is planned as three story building with 12 apartments.
The New Builds project in Veles utilizes reinforced concrete, brick and mortar construction technique, with professionals being hired to do the work that requires heavy equipment. The type of work that volunteers usually do include assembling of rebars, assembling and disassembling of forms, cleaning of forms, preparation of concrete, filling forms with concrete, filling "fert" beams with concrete, assembling of "monta–fert" floor construction, preparation of trusses, preparation of glue, masonry, wall covering with glue, wire mash and hard finishing, painting, as well as assistance with assembling of electricity, plumbing and sewage elements. Occasionally, the work includes transport of construction materials, excavations and landscaping.