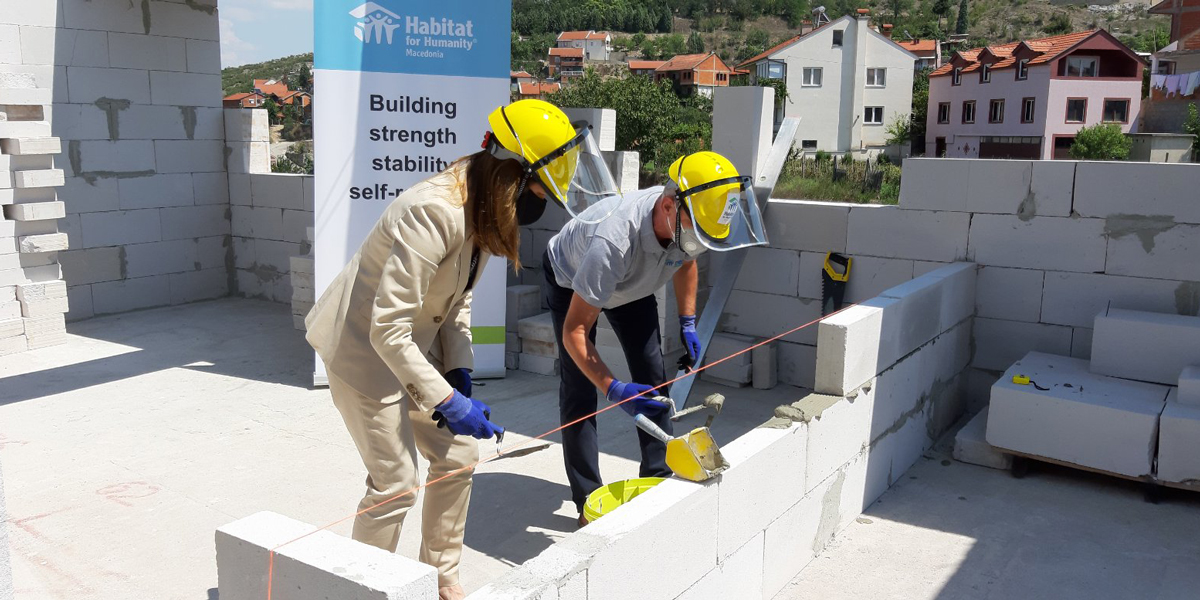 Volunteers
Home building during pandemic: U.S. Ambassador volunteers in Veles
With Habitat for Humanity's international volunteer program suspended due to the COVID-19 there was no better demonstration of commitment to fight the devastating effects of the pandemic than helping those in need get their new homes completed in time despite the odds. This is what Kate Marie Byrnes, U.S. Ambassador to North Macedonia, did in mid-August 2020.
The hosting program for the Ambassador's visit was Habitat Macedonia's New Builds project in Veles, where five buildings with 36 apartments were already completed during the past years. After the work on the sixth building with 12 apartments was put on hold in early March 2020 the Ambassador's volunteering actually marked the reopening of the site and continuation of the construction activities.
Dragan Malinovski, President of Habitat Macedonia Board joined the Ambassador Byrnes in laying bricks within the new building, under strict COVID-19 protocols. The occasion was also an opportunity for Zoran Kostov, National Director of Habitat Macedonia and Liljana Alceva, Deputy Director for Program, to present other programs of the organization and their impact on the community.
The New Builds project in Veles is a traditional Habitat for Humanity program that provides homes to low-income families. More than 1720 international volunteers organized in 122 Global Village teams volunteered on this construction site since the project was launched in 2008.