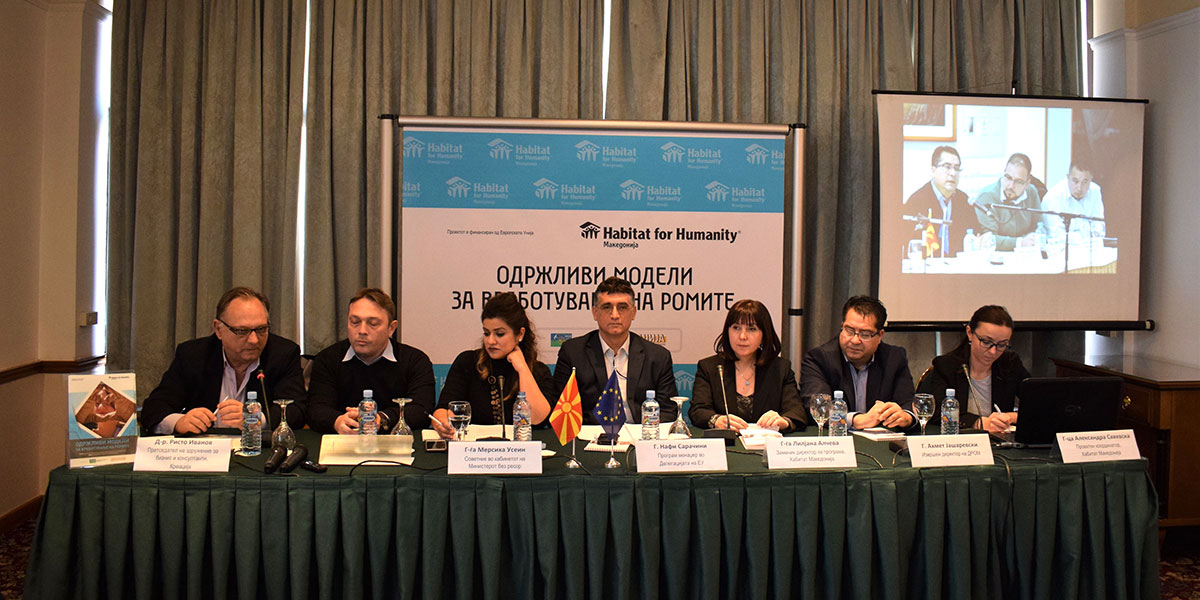 Closing conference for the project
"Developing Sustainable Models for Roma Employability"
The Roma community remains one of the most marginalized and disadvantaged groups in Macedonia. In 2007, Habitat Macedonia founded the Housing Fund for Roma, and since then has developed various program activities dedicated to improving the living conditions of Roma. The last of this series of activities was the project "Developing Sustainable Models for Roma Employability", funded by the European Union, within the framework of the IPA 4 instrument. The project was implemented in cooperation with DROM from Kumanovo and Creation from Skopje. The project was concluded in December 2017, on an official Closing Conference held in Skopje. The conference was an opportunity to gather all the stakeholders and present the goals and results of the 12-month project.
The overall goal of the project was to contribute to sustainable integration of Roma into the labor market, improving their employability in the housing construction and energy efficiency sector. The project objective was to increase employment potentials of Roma providing suitable and market validated personal capacities (knowledge, skills motivation, empowerment), and to facilitate the access to the labor market. The projects targeted the significant high level of unemployment that persists within the Roma community and with that, low living standards and related problems to poverty housing.
After realization of the planned activities, in a period of 12 months, the project managed to: R1. Strengthened the capacities for construction skills and respective certification completed. R2. Increased motivation and encouragements for employment, especially among Roma women. R3. Established employment network among Roma, employers and local governments in Kumanovo and Prilep.
The mayor project deliverables are:
67 Roma men went through theoretical and practical training in façade works & drywall construction and in masonry & doors and windows installations;
Manuel for 4 construction crafts was prepared and published;
2 schools were renovated during the practical training of the participants;
43 construction workers received official certificates for their skills;
74 men and 48 women had strengthened their job searching skills through trainings for motivation and employment abilities;
16 of the participants went on additional entrepreneurship training;
20 local construction companies directly engaged in the project via meetings and local workshops;
63 construction companies were mapped and included in the on-line employment network;
2 job fairs were organized in Kumanovo and Prilep;
80% of the participants felt more competitive on the labour market after completion of the trainings;
18% of the participants received job offers in the first months after completion of the project.