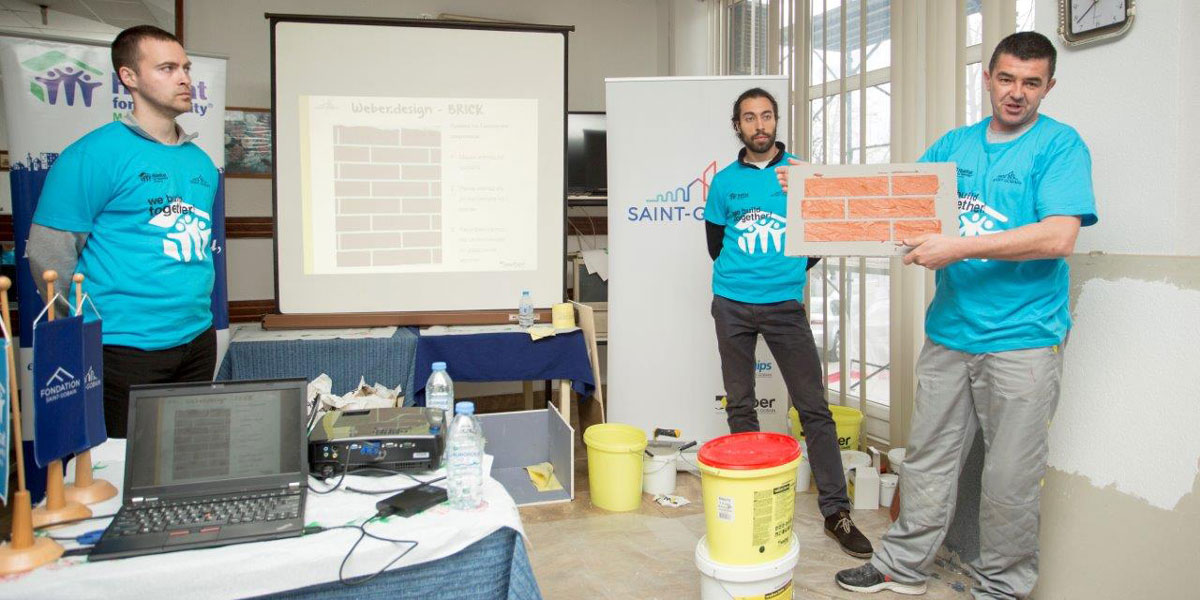 Volunteers
Saint-Gobain and Habitat Macedonia Volunteer Day
A volunteer day, organized by a joint team of Saint-Gobain and Habitat Macedonia employees, took place at the construction site of the Association of Pensioners in Kavadarci, Central Macedonia on March 20, 2018. The building of the Association is under reconstruction as part of the project of Saint-Gobain and Habitat Macedonia for renovation of the premises of the Association and improvement of the energy efficiency of the building. This is the first project funded by the Saint-Gobain Initiatives Foundation in Macedonia.
In the course of the volunteer day activities, the volunteers were assisting with the installation of the facade, as well as with many other ongoing construction activities.
"Our company Saint Gobain is very proud to be able to contribute to energy-efficient and environmentally-friendly habitat improving the lives of the local people. We believe that healthy homes have a great social value and we hope that our donation and this volunteer day would motivate other companies as well to jointly foster positive societal changes", said Laszlo Lauko, Communication Director of the Saint-Gobain after volunteering in Kavadarci.
The Saint-Gobain Initiatives Foundation was formed in 2008, with headquarters in France, and it relies on the commitment of the employees from the SAINT-GOBAIN Group. All the employees, whether currently employed or retired, can sponsor solidarity actions in the fields of inclusion of young adults in professional life & the construction, improvement or renovation for general interest purposes of the social habitat, contributing in particular towards reducing energy consumption and preserving the environment.
Exactly these principles were the point of merging with the goals and principles of Habitat Macedonia. A joint project was soon defined, aimed at improving the energy efficiency of the building in which the Association of pensioners - Kavadarci, their Day Center and 2 pensioners' apartments are located. The users of this project will save up to 30% of the energy consumption. The renovation includes insulation of the facade, replacement of old windows and doors with energy efficient as well as renovation of the pensioners' common area (day center).
Taking into account that both the Foundation and Habitat are committed to the integration and education of young people, the project also foresaw the involvement of a group of students from the Faculty of Architecture in Skopje and secondary school students from vocational high schools. Thus, after the successful realization of the volunteer day, a group of 32 students from the Faculty of Architecture was staying at the construction site. The students had the opportunity to hear about the benefits of improving the energy efficiency especially in the residential buildings, and see in practice how the materials for energy efficiency are applied at the construction site.